"Drs. Horn and Miller have superb training and years of practical experience caring for women patients. It shows on every page of this excellent book."
--The Honorable Glenda Hatchett, star of the nationally syndicated television program, "Judge Hatchett
"
Authors' Blog
The Doctor is Human By Dr. Robin Miller
Healthcare has become a maze of insurance companies, regulations and lack of access to providers. Part of what makes it so complicated is all the charting and coding doctors must do. All of this takes away from patient care. Doctors spend more time on their computers than with patients. In my opinion, it has caused […]Read More
The Smart Woman's Guide to Midlife and Beyond
A No-Nonsense Approach to Staying Healthy After 50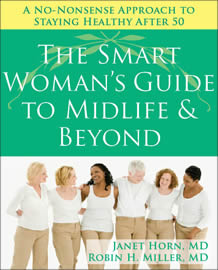 Smart women understand that taking care of their health is essential to maintaining an active lifestyle.
This comprehensive guide shows you how to work with your body instead of against it to stay healthy and happy through menopause and beyond.
Written by two practicing doctors who have been close girlfriends since they met during medical training at the Johns Hopkins Hospital, The Smart Woman's Guide to Midlife and Beyond includes the doctors' own personal experiences, patient stories from their medical practices, and all the information you need to age with good health, grace, and humor.

STAYING HEALTHY AFTER 50
December 13, 2008
A lot of health books cross our desks each year, but few have done a better job of grabbing our attention than "The Smart Woman's Guide to Midlife and Beyond." The authors -- Janet Horn and Robin H. Miller, both physicians -- open with this passage: "Let us be right up front as you start reading. This book is not about becoming young again." Rather, the two explain that women "can stay healthy by working along with [their] bodies as they change with time, not fighting against them." In addition to information about fitness, diet, mental health and common illnesses, the authors write about their personal health experiences, share stories from their work with patients and provide a "Health Maintenance Schedule" to help readers monitor their progress. It's a terrific resource -- and a wonderful read.